"Go" (Acoustic Version) by Chris Jamison
Chris Jamison is a Pittsburgh-based singer and songwriter who has taken his talents from Pittsburgh to the global stage after joining NBC's The Voice. Leading up to the release of his new album, "Puzzle Pieces," we sat down with Chris to talk about his journey and what brought him back to our shared hometown of Pittsburgh, PA.
When/how did you discover your interest in music?
I first got into music when I was probably 4 or 5, and I started by taking piano lessons. My parents had put me in the lessons but at the time, but it wasn't really the thing that I devoted my whole life to. It was just another extra activity that you do and then I did sports and that stuff too
I went from piano lessons to doing musical theater performing groups. We'd go out and do Broadway standards. That was my start into performing and getting comfortable on stage and in front of crowds.
When did you think about making music your career?
I never planned on making music my career. I was assuming that I would just go to college and get a 9 to 5 job, then play at bars and restaurants on the weekend.
It wasn't my main focus, because I didn't know anyone else that made it a career. So I figured it wasn't really a possibility.
I went to school for music technology, then started playing at bars and restaurants on the weekend. That's when I started to record and sing my own songs, because up to that point I had always done musical theater groups so I was never really given the chance to find out what I was capable of.
Tell us about your family's role in your journey so far.
My family's been extremely important in shaping not just obviously my music and career path, but also me as a person They've provided me this opportunity and environment to learn how to play music, and take the chance on making it a career.
My wife has also played a huge role, mainly because she's been there from the beginning as far as my music is concerned, but also me as a human being. We started dating when we were 13 years old in 8th grade and we just got married a little over 2 years ago. It's been cool because there have been a lot of changes in my life.
From music as a side-gig to the wild ride on The Voice and back to reality, she's been there through it all. What's also been great is that she isn't involved in music. It's nice coming home and being able to share my work with her. She's essentially just a listener, not a musician so she doesn't analyze as other musicians or instrumentalists do. Her opinion is similar to any person that will be listening to record on the radio, and she gives me her honest feedback which sometimes I like and sometimes I don't. A lot of the time she's right though.
"After coming back from the Voice in LA, and people saying I should try Nashville, it wasn't for me. I just always knew that I would have Pittsburgh as my home base."
You mentioned the Voice, how did you end up with that opportunity and what was the process of getting selected?

The process of getting on The Voice kind of came out of nowhere. There was a professor that had just started at the university I went to and he didn't know anyone, but he had gotten an email from The Voice casting department and they said they were looking for talent for the upcoming season.
I went to a school where a lot of vocalists were classically trained, there weren't a ton of pop vocalists. I had been a part of the music technology program and was in this ensemble where we sang covers of different styles of music. Long story short he reached out to the head of the music technology who mentioned I would be interested in doing it.
The summer before going back to school, my wife's family and my family were saying I should try out, but I had done American Idol and America's Got Talent and never really got anywhere. I was not in the mood to stand in lines and assumed again that my plan was to just play at bars and restaurants during the weekend. Trying out would mean I'd be trying to be famous or have an actual career which was a long shot. Still, the opportunity was there so I figured I could at least send in a video, call it a day, and move on. That way, I could tell my professor that I auditioned and then forget about.
So I sent a video in that we recorded right at my college, and then things took on a life of their own and went a lot deeper and further than I had expected it to.
Instead of staying in LA after The Voice, you came back to Pittsburgh. Why?
Pittsburgh is special to me for a lot of reasons. One is just the fact that I grew up here, it's where I was born and raised, it's where I've lived my entire life.
After coming back from the Voice in LA, and people saying I should try Nashville, it wasn't for me. I just always knew that I would have Pittsburgh as my home base.
When I got off the Voice my main priority was to find a place where I'll be able to create, where I'm able to record and start to further my own music and my own career. I found The Vault Recording Studio 10 minutes from where I live and fell in love with the place when I came to tour.
I've been recording here since, and all the new music will come from here. To have support from my hometown and from the city where I live and plan on living for the rest of my life has been really special to me. It's been important to my wife and me to be able to have a place that is supportive and allows me to continue to pursue my music all from the comfort of Pittsburgh, Pennsylvania.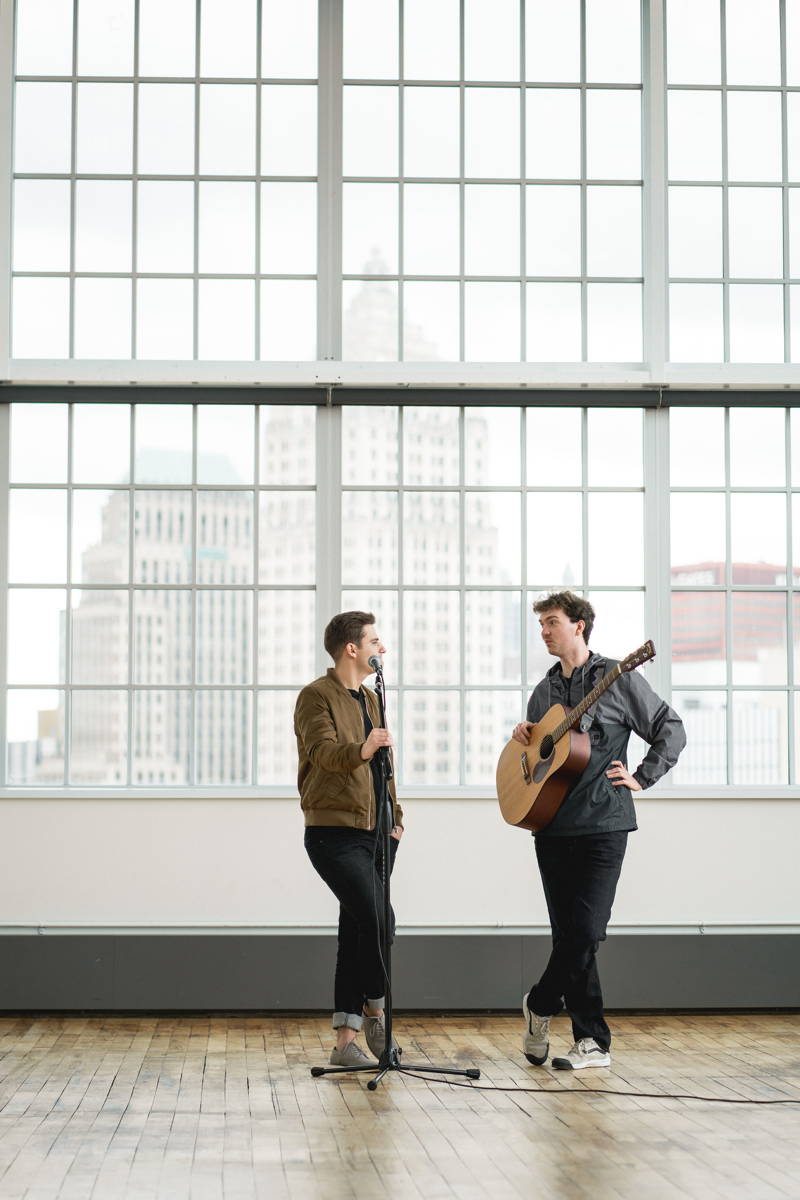 Tell us about your new single, "Go."
The inspiration for 'Go' came from a period of time after The Voice where I remember I was living at my parents' house and everyone was gone at their jobs and school.
I was in my own head and have always been an analytical person. During this time I was also going through this question of like, 'Do you keep furthering your music career or do you go back to doing what you were doing before? What are my next steps, what am I going to do?'
One morning I was walking outside with our dog Charlie, and the sky was really blue. I remember looking out and I just felt this fog of all the things in my head that I kept replaying. I couldn't get them out so I thought maybe if I open my eyes a bit wider I can clear out these things in my head and focus. I had to let go of the distractions.
So when I sat down to write this song I thought about Charlie, opening my eyes, and letting go. The message of the song is letting things go and trying to move forward.
I think that a lot of people can relate to that aspect of things causing them anxiety and they can't turn it off. It's just a crazy experience but as the song kinda says it.
All I can do is trust what I've always known, and let the other stuff go.